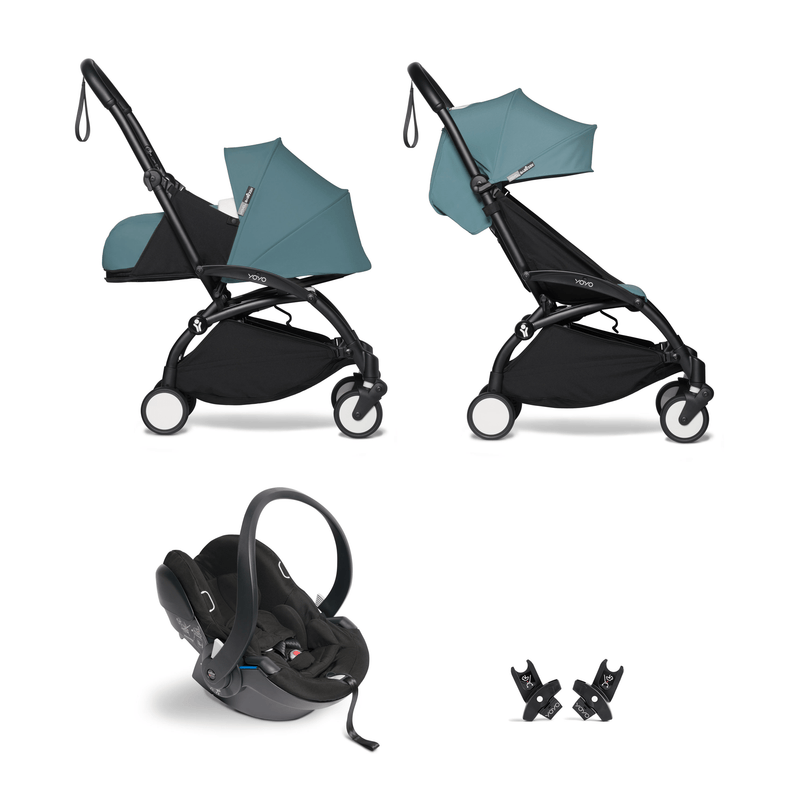 Roll over image to zoom in







Description
The BABYZEN YOYO2 All-You-Need bundle in Black/Aqua is exactly what the name suggests - all you need! This essential bundle is perfect for modern urban parents that are looking for the perfect solution to look after their newborn baby from birth up to 4 years. 
The All-You-Need bundle includes the YoYo2 frame, newborn pack, 6months+ colour pack, and the YoYo BeSafe car seat and its accompanying adaptors.

Babyzen YoYo2 Stroller
The All-You-Need YoYo2 stroller bundle allows your baby to lie completely flat from birth with the parent-facing newborn pack. When your little one is ready to move onto world-facing upright positions then you can simply swap the newborn pack out for the forward-facing 6 months + fabrics and allow them to discover and learn about the world around them.

The YoYo2 boasts a new maximum weight of 22kg so your child can continue to use it for longer. Designed with style in mind, the YoYo2 has a soft faux-leather handle that looks great and is also a pleasure to grip so pushing is gentle on the hands.

This fabulous stroller makes packing up at the end of the day a breeze as it features a one-handed fold that can be achieved with the newborn nest or the forward-facing 6+ fabric attached and can be easily carried on the shoulder with the padded shoulder strap. It also comes with a handy cover bag to make carrying it even easier. Once folded the YoYo2 is below the recommended IATA-approved carry-on baggage size so taking the YoYo2 on most planes will be no hassle at all.

The YoYo2 now also boasts Hytrel elastomer suspension which is unique 4-wheel suspension technology designed to give you a comfortable push and your baby a comfortable journey. The spacious basket can hold up to 5kg of items and is easily accessible from the front or back. The fabrics are also easily removable and machine washable at 30 degrees so no need for a time-consuming handwash.

The newborn parent-facing nest featured in the All-You-Need bundle is designed to cradle your newborn with its soft, comfortable lie-flat mattress and colour-matching nest pad. It also features comfy head support and a foot cover to keep your little one warm and cosy wherever you go. Alongside these comfort-boosting aspects, the nest pack also includes a secure 5-point harness so you can be assured of their safety while in the pram.

Once your baby has moved on to forward-facing strolling, YoYo2's 5-point harness with new universal buckle design is there to keep them secure and make it easier for you to get them in and out of the pushchair. A multi-positioning reclining backrest will give them maximum comfort whether they're taking a nap or taking in the world around them and the UPF50+ sun protection canopy, also featured on the newborn nest, will keep them protected from the glare of harmful UV rays.
BeSafe YoYo i-Size Car Seat
The BeSafe YoYo i-Size Car Seat is suitable from birth up to 75cm (approx. 12 months) and meets the latest and highest standard of i-Size safety (R129). It features a side impact protection shock reduction system (SIP+) to protect your child in the unlikely case of collision, as well as Dynamic Force Absorber technology to give added head protection. 
When it comes to comfort, the BeSafe YoYo i-Size car seat features a Newborn Hugger to offer cushioning head support. It adapts to your baby's growth and the UPF50+ ventilated sun hood is designed to maintain a cool and safe environment for your little one. This fantastic car seat also features magnetic shoulder straps to make installation easy and comes with an ergonomic 3-position carry handle so you can always find the best way to carry it for you.
You can install your BeSafe car seat onto your YoYo2 with two simple clicks to create a comprehensive travel system designed to protect your little one and ensure they can travel safely.
Discover our wide range of pushchairs and buggies for all ages or if you're looking for a pram suitable for a newborn then view our range of baby prams to find more like this one.
Please note: Raincover not included.
Key Features
Suitable from birth with lie-flat, parent-facing nest
One-hand folding & unfolding
Lightweight frame
Soft-faux leather handlebar
Safety wrist-strap for greater security
Folds into one piece even with newborn pack attached
Padded over-the-shoulder carry strap
Supportive mattress & head support in newborn nest
Multi-position reclining backrest
UPF50+ sun protection
5-point harness with universal buckle design
Hytrel elastomer 4-wheel suspension
Spacious basket supportive of up to 5kg
Machine washable fabrics at 30 degrees 
Airline approved once folded
Specifications
YoYo2 Stroller
Weight suitability: up to 22kg

Newborn nest dimensions: 75cm x 44cm
Lie-flat mattress: 20mm thickness
Dimensions (folded): 52cm x 44cm x 18cm
Frame weight: 6.1kg 
BeSafe Car Seat
Age suitability: from birth up to approx. 12 months
Weight suitability: up to 13kg
Height suitability: up to 75cm

Weight: 4.2kg
Dispatch & Delivery
If you place an order by 12pm between Monday to Friday of an item marked as available for immediate dispatch we will ensure the order is dispatched the same day.  Orders received after that time will be dispatched the following working day.  

DPD PIN Code Deliveries - Customers (recipient) will need to provide their e-mail and mobile number during checkout in order to receive their DPD PIN in order to be able to receive their order.  More information on DPD PIN deliveries can be found here
Availability denotes the length of time the item will take to be available to dispatch. 
Shipping denotes the duration of time that an items takes to reach its destination the either our warehouse or manufacturer's warehouse.  For example an item with "Available in 7-10 working days" and "Standard Delivery" should be expected in 9-12 working days.  Please note working days excludes weekends and bank holidays. 
Our secure website and payment gateways perform a number of security checks against an order.  Any errors on the order could result in delays while we attempt to contact you to clarify any inaccuracies.  At Baby & Co we use a number of carrier services to ensure prompt and speedy delivery, this may include using more than one carrier for an order, however this is rare.
Your order may be dispatched from more than one location including our warehouse or directly from the manufacturer this may result in your order arriving on more than one consignment.  Aside from made to order items and direct delivery we offer the following delivery options. 
With the exception of made to order items and products sent directly by the supplier below you will find our standard delivery terms.  Please note that we only ship within the United Kingdom. 
Please note the following brands only deliver to UK mainland post codes, excluding some Scottish post codes:- Ickle Bubba, Boori, East Coast, Tutti Bambini, Mamas & Papas, Silver Cross Furniture, CuddleCo.
Please note that some nursery furniture deliveries will be to the customer's door, this may exclude internal apartment doors.
Tutti Bambini - If the goods have been sent with the courier, we will now need to charge a 30% handling fee in order to stop them with the carrier and will be refunded less this fee which includes picking, transport and insurance costs.
Silver Cross - Last order date for pre-Christmas furniture delivery is 3rd December 2021 
Standard Delivery

Region

Rate

Delivery Schedule

U.K. mainland
Orders over £49.99 - Free
Orders £34.99 or under - £4.95
2-3 working days
Scottish Highlands
£18 per order
U.K. Islands
& Isle Of Wight
£18 per order
Northern Ireland
£18.00 per order*
Please note - our carriers only work Monday to Fridays (8am - 6pm). We regret our carriers cannot deliver at a specific time. ALL deliveries must be signed for.
Express Delivery

Region

Rate

Delivery Schedule

U.K. mainland
Orders over £49.99 - £7.95
Orders £49.99 or under - £9.99
1-2 working days
Scottish Highlands
£18 per order
U.K. Islands &
Isle Of Wight
£18 per order
Northern Ireland
Not available *
Please note - our carriers only work Monday to Fridays (8am - 6pm). We regret our carriers cannot deliver at a specific time. ALL deliveries must be signed for.
If you are not home and have not responded to the courier's requests for a specific delivery/re-delivery day the courier's terms are that they will leave your order with a neighbour.
*Please note there may be some delays shipping goods to Northern Ireland.
Payment & Security
Your payment information is processed securely. We do not store credit card details nor have access to your credit card information.