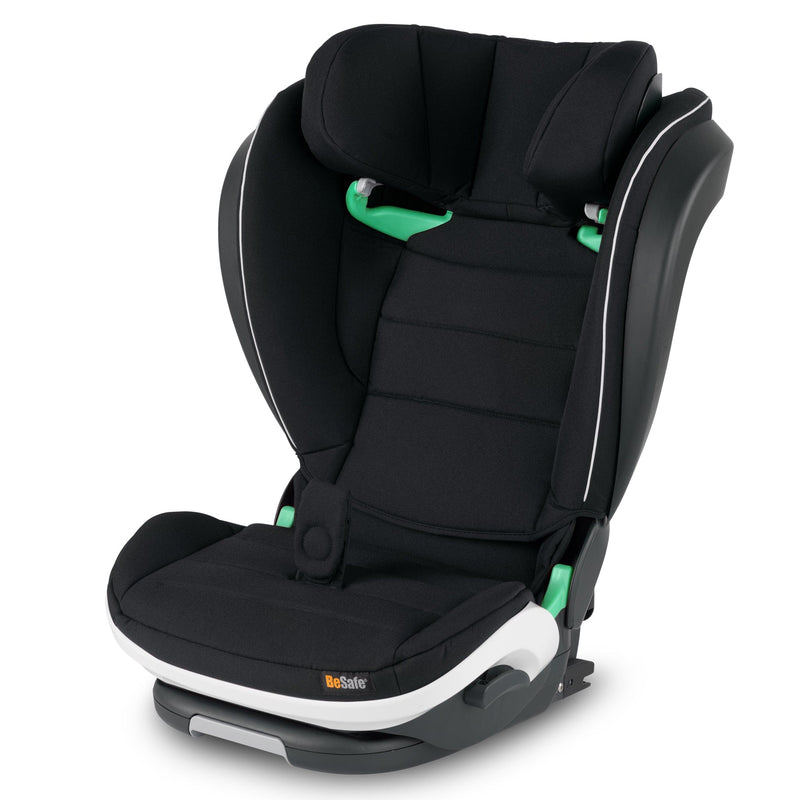 Roll over image to zoom in


---
Use 'baby5' to save an extra 5% at checkout!
Description
The i-Size Innovation 
The First i-Size Approved High Back Booster has Arrived!
Winner of the prestigious Kind + Jugend Innovation Award 2017
The BeSafe iZi Flex FIX i-Size Car Seat in Fresh Black Cab is the first high back booster seat to conform to the latest car seat regulation UN R129-02. The new regulation demands extremely high safety standards and rigorous testing on high back booster seats, ensuring maximum protection for your child. The Side Impact Protection is improved and provides 3 layers of protection, while the headrest is highly adjustable and ergonomically designed to provide the utmost comfort and protection. 
Safety First
Building on the innovative safety features of the Besafe iZi Car seats, the BeSafe iZi FLEX Fix adds i-size exceeding safety to create a very safe seat that will grow with your child. The Additional Side Impact Protection is retractable and removable so you can provide protection specifically where it's needed most while remaining flexible. The SIP bumpers absorb energy in the event of a side-impact and act like a car's crumple zone, reducing sideways movement and deterring energy away from the seat.
The iZi FLEX Fix introduces the innovative PAD+ to provide added chest and chin protection. It sits at the top of the seatbelt and brings an extra element of comfort and safety.
One of the most important parts of keeping your child safe when travelling is ensuring correct installation. If the seat is not fitted as it should be, it will not perform to its best ability and could be unsafe. BeSafe ensure correct fitting by making it as clear and simple as possible. The lockable ISOfix arms click simply into the car to provide stability both when the child is in and out of the seat and ensure the seat is in an optimum position. The seat then requires a 3-point seatbelt which threads through the clear shoulder and lap belt guides to hold your child and seat safely and securely in the car. 
Adjustable Comfort
As the BeSafe iZi FLEX Fit lasts right from approximately 4-12 years, your little one will do a lot of growing in that time! This means it's vital that your car seat can grow with them, ensuring it's not only safe but comfortable too. The headrest can be easily adjusted from either side while your child is still seated, and moves to a number of positions. Its shape is specifically designed to offer advanced protection and provide comfort even when sleeping, while still allowing for a great view when wide awake. The seat can even be reclined to numerous angles, so you can get them as comfy as possible. 
Flexibility to Fit Your Family 
One of the biggest problems families face is trying to fit numerous car seats into one car. The BeSafe iZi FLEX fit allows you to fit 3 of their seats into the back of most cars, while still offering the best protection! The SIP bumpers can be removed to free up more space for the seat. Simply fit the bumpers to the side of the seat facing the door, but completely remove the bumpers of the seat in the middle, as they receive the protection they require from the surrounding seats. What's more, the ISOfix connectors can be retracted, so you can fit the seats in cars with or without ISOFIX anchors.
More Space, Just as Safe.
To view more car seats and accessories from BeSafe view our BeSafe collection or view our in-car accessories collection to discover a range of useful and entertaining accessories that make every car journey better.
Key Features
First i-Size highback booster
Suitable from 100cm - 150cm
ISOFIX and belted installation
Advanced side impact protection
Space conscious
Adjustable recline positions
PAD+ for additional chin and chest protection
Shoulder and lap belt guides
Headrest offers better view and sleep support
Winner of the Kind + Jugend Innovation Award 2017
Specifications
Height suitability: 100cm -150cm 
Age suitability: 4 - 12 years (approx.)
Dimensions: 42cm x 55cm x 64 - 82cm  
Width Without SIP: 42cm 
Weight: 7kg
Approved: UN R129-02
Dispatch & Delivery
If you place an order by 12pm between Monday to Friday of an item marked as available for immediate dispatch we will ensure the order is dispatched the same day.  Orders received after that time will be dispatched the following working day.  

DPD PIN Code Deliveries - Customers (recipient) will need to provide their e-mail and mobile number during checkout in order to receive their DPD PIN in order to be able to receive their order.  More information on DPD PIN deliveries can be found here
Availability denotes the length of time the item will take to be available to dispatch. 
Shipping denotes the duration of time that an items takes to reach its destination the either our warehouse or manufacturer's warehouse.  For example an item with "Available in 7-10 working days" and "Standard Delivery" should be expected in 9-12 working days.  Please note working days excludes weekends and bank holidays. 
Our secure website and payment gateways perform a number of security checks against an order.  Any errors on the order could result in delays while we attempt to contact you to clarify any inaccuracies.  At Baby & Co we use a number of carrier services to ensure prompt and speedy delivery, this may include using more than one carrier for an order, however this is rare.
Your order may be dispatched from more than one location including our warehouse or directly from the manufacturer this may result in your order arriving on more than one consignment.  Aside from made to order items and direct delivery we offer the following delivery options. 
With the exception of made to order items and products sent directly by the supplier below you will find our standard delivery terms.  Please note that we only ship within the United Kingdom. 
Please note the following brands only deliver to UK mainland post codes, excluding some Scottish post codes:- Ickle Bubba, Boori, East Coast, Tutti Bambini, Mamas & Papas, Silver Cross Furniture, CuddleCo.
Please note that some nursery furniture deliveries will be to the customer's door, this may exclude internal apartment doors.
Tutti Bambini - If the goods have been sent with the courier, we will now need to charge a 30% handling fee in order to stop them with the carrier and will be refunded less this fee which includes picking, transport and insurance costs.
Silver Cross - Last order date for pre-Christmas furniture delivery is 3rd December 2021 
Standard Delivery

Region

Rate

Delivery Schedule

U.K. mainland
Orders over £49.99 - Free
Orders £34.99 or under - £4.95
2-3 working days
Scottish Highlands
£18 per order
U.K. Islands
& Isle Of Wight
£18 per order
Northern Ireland
£18.00 per order*
Please note - our carriers only work Monday to Fridays (8am - 6pm). We regret our carriers cannot deliver at a specific time. ALL deliveries must be signed for.
Express Delivery

Region

Rate

Delivery Schedule

U.K. mainland
Orders over £49.99 - £7.95
Orders £49.99 or under - £9.99
1-2 working days
Scottish Highlands
£18 per order
U.K. Islands &
Isle Of Wight
£18 per order
Northern Ireland
Not available *
Please note - our carriers only work Monday to Fridays (8am - 6pm). We regret our carriers cannot deliver at a specific time. ALL deliveries must be signed for.
If you are not home and have not responded to the courier's requests for a specific delivery/re-delivery day the courier's terms are that they will leave your order with a neighbour.
*Please note there may be some delays shipping goods to Northern Ireland.
Payment & Security
Your payment information is processed securely. We do not store credit card details nor have access to your credit card information.