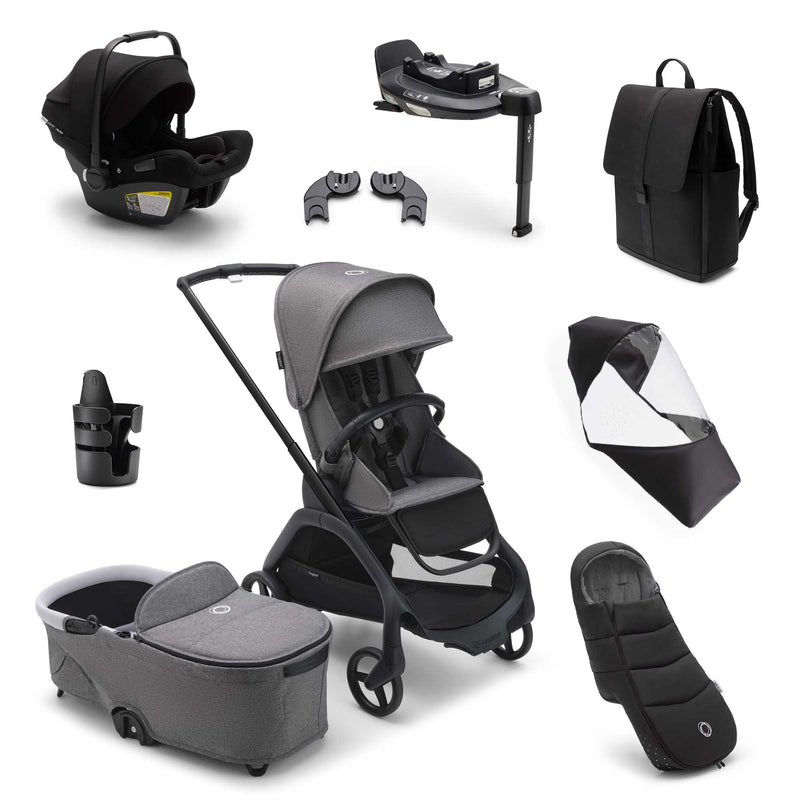 Roll over image to zoom in











Description
Introducing the Bugaboo Dragonfly: The Future of City Strolling
Experience the ultimate in innovative and convenient urban mobility with the newest addition to the Bugaboo range, the Bugaboo Dragonfly Ultimate Bundle with Turtle 360 car seat & base in Graphite/Grey Melange. This remarkable pushchair is designed to revolutionise the way city-dwelling families navigate their bustling surroundings. Combining compact foldability, unrivalled comfort, and a sleek design, the Bugaboo Dragonfly is set to redefine your city strolling experience.
One Handed, Stand-Up Compact Fold
Say goodbye to the hassle of folding and storing your pushchair. With the Bugaboo Dragonfly, one smooth action is all it takes to fold it into a self-standing position. Whether you have the seat or carrycot attached, the patented technology allows for effortless folding with just one hand. Plus, weighing in at a mere 7.9kg with the seat unit or 9.9kg with the carrycot, this lightweight companion is a breeze to carry wherever your adventures take you.
Smart and Flexible Storage System
Bugaboo understands the need for practicality when it comes to days out with your little one. That's why the Bugaboo Dragonfly in Graphite/Grey Melange comes equipped with a smart and flexible storage system. The expandable rear pocket can be conveniently moved to wherever you need it most – whether it's at the front, back, or on the handlebar. Now, you can effortlessly keep all your essentials within easy reach.
City+ Driving Experience for Urban Terrains
Navigating the urban jungle has never been smoother. The Bugaboo Dragonfly offers a city+ driving experience with precision steering, full suspension, and all-new high-performance urban wheels. These wheels are designed to provide enhanced traction, ensuring a comfortable ride for your child. With the sturdy central joint that absorbs bumps, both you and your little one can enjoy smooth rides and restful naps even on uneven surfaces.
Iconic Bugaboo Design Reimagined for the City
Attention to detail is at the heart of the Bugaboo Dragonfly. Their iconic design has been reimagined to perfectly suit the city environment. The seamless infinity loop design not only adds sturdiness to the pushchair but also lends it a stylish and elegant appearance. A straight handlebar line connects the materials, giving the Dragonfly a cleaner, more refined look that will turn heads as you stroll through the city streets.
Built for a Better Future
Bugaboo are committed to creating products that have a positive impact on the world. The Bugaboo Dragonfly is designed in line with their Push to Zero commitments, aiming to reach net zero by 2035. Bugaboo have carefully considered every element of this pushchair to reduce its environmental footprint. By incorporating mass-balanced bio-based materials, Bugaboo have managed to decrease the pushchair's carbon emissions by an impressive 21%. Additionally, the Dragonfly is built to last, featuring premium materials such as 100% vegetarian leather handlebar grips and eco-friendly water-repellent fabric coatings.
Bugaboo Turtle Car Seat
Bugaboo Turtle Air by Nuna is the safe and convenient car seat that fits all Bugaboo pushchairs. It's an ultralight i-Size infant car seat for safely transporting your newborn from day one. It offers top comfort for your baby on the road and seamless integration with your Bugaboo pushchair.  This bundle also includes the Bugaboo 360 Isofix base by Nuna for the ultimate in convenience.
Bugaboo Dragonfly Key Features:
Innovative one-hand, stand-up compact fold
Patented compact folding system is the first of its kind
Lightweight (7.9 - 9.9 kg) for easy portability
Easily tucks away in a closet, boot, or narrow hallway​
City+ driving experience for urban terrains with responsive steering and full suspension
Flatter wheel design offering better traction and grip
Smart and flexible storage system with an expandable rear pocket and XL underseat basket
Longer 105 cm handlebar for precision steering
XL underseat basket can hold up to 10 kg/22 lbs
Included:
Pushchair
Carrycot
1 hood
Bugaboo Turtle Air by Nuna Car Seat
Bugaboo 360 ISOFIX Base by Nuna
Footmuff

Changing Bag
Raincover
Cup Holder
Adaptors
Dimension
Stroller weight: 7.9 - 9.9 kg   ​
Suitable from 6 month up to 22 kg ​
Folded with seat measurements: 36 x 52 x 90cm
Folded with bassinet measurements: 36 x 52 x 90cm
Turtle: From birth up to approx. 15 months (max. 13 kg/28.6 lbs
40 cm -  83 cm
Turtle: Ultralight (at 3 kg/6.5 lbs)
Bugaboo are proud to offer the Bugaboo Dragonfly with a two-year warranty on all parts and servicing. By registering your product on Bugaboo.com, you can enjoy an additional two years of warranty coverage, reflecting our commitment to premium quality and durability.
Embark on a new era of city strolling with the Bugaboo Dragonfly. Let comfort, convenience, and sustainability accompany you on every beautiful adventure you and your little one embark on.
Shop the full Bugaboo Dragonfly range here
Dispatch & Delivery
If you place an order by 12pm between Monday to Friday of an item marked as available for immediate dispatch we will ensure the order is dispatched the same day.  Orders received after that time will be dispatched the following working day.  

DPD PIN Code Deliveries - Customers (recipient) will need to provide their e-mail and mobile number during checkout in order to receive their DPD PIN in order to be able to receive their order.  More information on DPD PIN deliveries can be found here
Availability denotes the length of time the item will take to be available to dispatch. 
Shipping denotes the duration of time that an items takes to reach its destination the either our warehouse or manufacturer's warehouse.  For example an item with "Available in 7-10 working days" and "Standard Delivery" should be expected in 9-12 working days.  Please note working days excludes weekends and bank holidays. 
Our secure website and payment gateways perform a number of security checks against an order.  Any errors on the order could result in delays while we attempt to contact you to clarify any inaccuracies.  At Baby & Co we use a number of carrier services to ensure prompt and speedy delivery, this may include using more than one carrier for an order, however this is rare.
Your order may be dispatched from more than one location including our warehouse or directly from the manufacturer this may result in your order arriving on more than one consignment.  Aside from made to order items and direct delivery we offer the following delivery options. 
With the exception of made to order items and products sent directly by the supplier below you will find our standard delivery terms.  Please note that we only ship within the United Kingdom. 
Please note the following brands only deliver to UK mainland post codes, excluding some Scottish post codes:- Ickle Bubba, Boori, East Coast, Tutti Bambini, Mamas & Papas, Silver Cross Furniture, CuddleCo.
Please note that some nursery furniture deliveries will be to the customer's door, this may exclude internal apartment doors.
Tutti Bambini - If the goods have been sent with the courier, we will now need to charge a 30% handling fee in order to stop them with the carrier and will be refunded less this fee which includes picking, transport and insurance costs.
Silver Cross - Last order date for pre-Christmas furniture delivery is 3rd December 2021 
Standard Delivery

Region

Rate

Delivery Schedule

U.K. mainland
Orders over £49.99 - Free
Orders £34.99 or under - £4.95
2-3 working days
Scottish Highlands
£18 per order
U.K. Islands
& Isle Of Wight
£18 per order
Northern Ireland
£18.00 per order*
Please note - our carriers only work Monday to Fridays (8am - 6pm). We regret our carriers cannot deliver at a specific time. ALL deliveries must be signed for.
Express Delivery

Region

Rate

Delivery Schedule

U.K. mainland
Orders over £49.99 - £7.95
Orders £49.99 or under - £9.99
1-2 working days
Scottish Highlands
£18 per order
U.K. Islands &
Isle Of Wight
£18 per order
Northern Ireland
Not available *
Please note - our carriers only work Monday to Fridays (8am - 6pm). We regret our carriers cannot deliver at a specific time. ALL deliveries must be signed for.
If you are not home and have not responded to the courier's requests for a specific delivery/re-delivery day the courier's terms are that they will leave your order with a neighbour.
*Please note there may be some delays shipping goods to Northern Ireland.
Payment & Security
Your payment information is processed securely. We do not store credit card details nor have access to your credit card information.