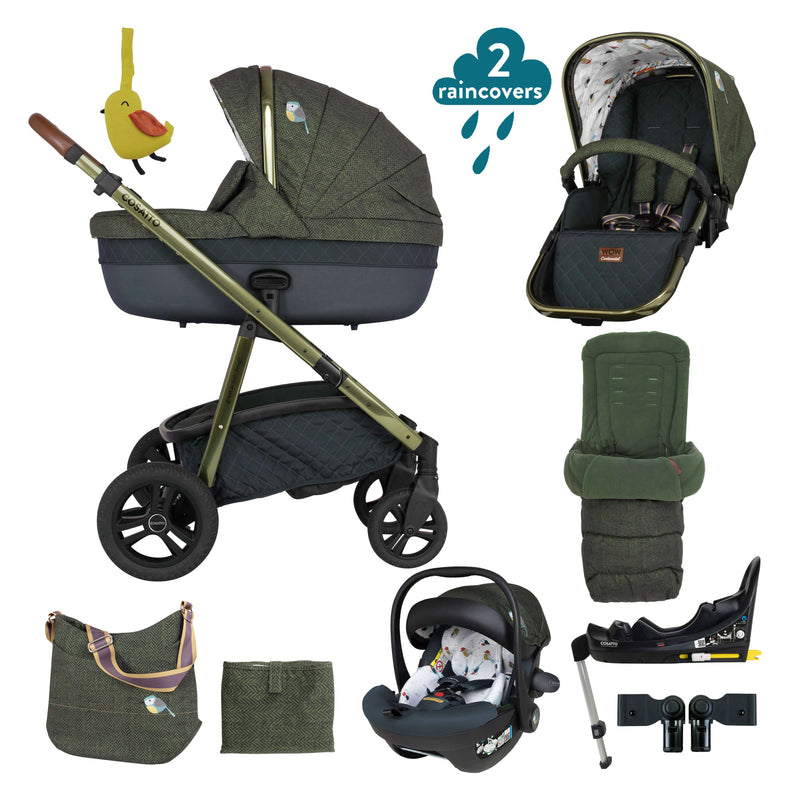 Roll over image to zoom in


---
Use 'baby5' to save an extra 5% at checkout!
Description
The Cosatto Wow Continental Travel System in Bureau includes; Wow Continental Pushchair, Carrycot, Acorn i-Size Car Seat , Acorn i-Size Base, Acorn Adaptors, Footmuff & Changing Bag.
Wow Continental Pushchair
Cosatto Wow Continental is a multi-terrain pram/pushchair with the ability to turn into a travel system.
The pushchair is suitable from birth with its comfy padded seat with newborn liner, 4 recline positions and adjustable calf support. The seat unit is also forward and parent facing for that all-important eye contact whilst baby is young. Your little one will be kept safe and secure with the 5 point safety harness and removable gated bumper bar.
Getting out and about with this pushchair is a breeze, thanks to its premium puncture-proof, multi-terrain wheels, with the front swivel wheels lockable for precision.  Dual-mode all-round suspension will also smooth out any bumps if you choose to venture off-road. 
On those sunny days, the extendable hood with UPF100+ also has sun visor. Should the weather take a turn for the worst, your little one will be kept protected with the included tailored raincovers.
When your adventures are over the pushchair will easily fold down to a compact size, and an auto-lock will keep it neatly folded.
Cosatto Wow Continental Carrycot
The Cosatto Wow Continental Carrycot is designed to easily attach to the Wow Continental Pushchair with the integrated carry handle and easy release memory buttons.
The carrycot also features a comfy mattress and soft interior liner with 5 backrest positions making it suitable from birth to 6 months, as well as occasional overnight sleeping.
Cosatto Acorn i-Size Car Seat
Introducing Cosattos newest addition - a pioneering car seat packed with the latest safety innovations as aswell as eco friendly design with fabric made from recycled bottles with 13 plastic bottles in every Car Seat.
The Cosatto Acorn i-Size Car Seat is suitable from birth (40cm) up to 15 months (87cm). It can be installed into your vehicle rearward facing using your car's 3-point safety belt or for added security pair it with the Cosatto Acorn i-Size base (sold separately). When used with the Acorn ISOFIX base, the convenient quick-release buttons allow you to pop your car seat out of the car easily with minimal disturbance, so your little one can sleep on as you go about your day. 
The Cosatto Acorn i-Size car seat can be used alongside a number of the Cosatto pushchairs, including the Wow 2, Wow Continental, and Wow XL, to create a complete travel system that allows you to get from A to B seamlessly and without waking your sleeping tot (adaptors may be required, sold separately).
The i-Size Acorn features an easy-adjust headrest, removable newborn nest and tummy & chest pads that provide your baby with plenty of comfort and protection as they grow.  
Cosatto Acorn i-Size Base
The Cosatto Acorn i-Size Base is compatible with your Cosatto Acorn i-Size Car Seat (sold separately) The base easily and securely attaches with the Vehicles ISOFIX Connectors and when paired with you Acorn i-Size complies with the new i-Size standards.
Browse more from Cosatto to discover more fun and funky designs or browse our wide range of travel systems to find one that matches your unique style best. 
Key Features

Wow Continental Pushchair
Suitable from birth

Multi-terrain pushchair

Reversible seat unit

5-point safety harness 

Removable, gated bumper bar

Puncture-proof tyres

Dual-mode, all-round suspension

Extendable UPF100+ sun visor

Height-adjustable telescopic leatherette handle

One-hand backrest recline

Removable, quick-release wheels

Peak-a-boo window on hood

Super-sized 5kg limit basket with handy compartments

Includes travel companion
Includes chest and tummy pads

Cosatto's famous baby-friendly patterns boost learning and memory skill

Industry-leading 4 Year Guarantee.
Wow Continental Carrycot
Suitable from birth
Easily attaches to Wow Continental frame
Integrated carry handle
Easy-release memory buttons
Comfy mattress
Soft interior lining
5 backrest positions
Peak-a-boo window
Zippable bug net

Ventilation window panel

Washable liner and mattress cover
Acorn i-Size Car Seat
Suitable from birth

i-Size safety

Reinforced construction with a strong protective shell

Built with high-performance energy-absorbing material for maximum protection

Removable new-born nest creates optimum seat shape and adjustment for small babies

Easy one-handed simultaneous harness and headrest adjust
UPF 100+ adjustable canopy
Chest and tummy pads included


Removable machine-washable liner

Industry-leading 4-year guarantee
Acorn i-Size Base
Conforms to R129/03 standard
Compatible with Acorn i-Size car seat
Easy to install using ISOFIX points in the car
Has 5 visual indicators to confirm correct fitting in your car
Acorn i-Size base has a rebound bar and support-leg anti-rotation device to prevent car seat movement
Allows for Acorn i-Size car seat to be used with ISOFIX or i-Size
Collapsible leg for transportation and storage
Specifications
Age suitability: from birth to 15 months (approx.)
Height suitability: from 40cm to 87cm
Conforms to R129 Safety regulation. i-Size compliant when paired with i-Size base.
Dispatch & Delivery
If you place an order by 12pm between Monday to Friday of an item marked as available for immediate dispatch we will ensure the order is dispatched the same day.  Orders received after that time will be dispatched the following working day.  

DPD PIN Code Deliveries - Customers (recipient) will need to provide their e-mail and mobile number during checkout in order to receive their DPD PIN in order to be able to receive their order.  More information on DPD PIN deliveries can be found here
Availability denotes the length of time the item will take to be available to dispatch. 
Shipping denotes the duration of time that an items takes to reach its destination the either our warehouse or manufacturer's warehouse.  For example an item with "Available in 7-10 working days" and "Standard Delivery" should be expected in 9-12 working days.  Please note working days excludes weekends and bank holidays. 
Our secure website and payment gateways perform a number of security checks against an order.  Any errors on the order could result in delays while we attempt to contact you to clarify any inaccuracies.  At Baby & Co we use a number of carrier services to ensure prompt and speedy delivery, this may include using more than one carrier for an order, however this is rare.
Your order may be dispatched from more than one location including our warehouse or directly from the manufacturer this may result in your order arriving on more than one consignment.  Aside from made to order items and direct delivery we offer the following delivery options. 
With the exception of made to order items and products sent directly by the supplier below you will find our standard delivery terms.  Please note that we only ship within the United Kingdom. 
Please note the following brands only deliver to UK mainland post codes, excluding some Scottish post codes:- Ickle Bubba, Boori, East Coast, Tutti Bambini, Mamas & Papas, Silver Cross Furniture, CuddleCo.
Please note that some nursery furniture deliveries will be to the customer's door, this may exclude internal apartment doors.
Tutti Bambini - If the goods have been sent with the courier, we will now need to charge a 30% handling fee in order to stop them with the carrier and will be refunded less this fee which includes picking, transport and insurance costs.
Silver Cross - Last order date for pre-Christmas furniture delivery is 3rd December 2021 
Standard Delivery

Region

Rate

Delivery Schedule

U.K. mainland
Orders over £49.99 - Free
Orders £34.99 or under - £4.95
2-3 working days
Scottish Highlands
£18 per order
U.K. Islands
& Isle Of Wight
£18 per order
Northern Ireland
£18.00 per order*
Please note - our carriers only work Monday to Fridays (8am - 6pm). We regret our carriers cannot deliver at a specific time. ALL deliveries must be signed for.
Express Delivery

Region

Rate

Delivery Schedule

U.K. mainland
Orders over £49.99 - £7.95
Orders £49.99 or under - £9.99
1-2 working days
Scottish Highlands
£18 per order
U.K. Islands &
Isle Of Wight
£18 per order
Northern Ireland
Not available *
Please note - our carriers only work Monday to Fridays (8am - 6pm). We regret our carriers cannot deliver at a specific time. ALL deliveries must be signed for.
If you are not home and have not responded to the courier's requests for a specific delivery/re-delivery day the courier's terms are that they will leave your order with a neighbour.
*Please note there may be some delays shipping goods to Northern Ireland.
Payment & Security
Your payment information is processed securely. We do not store credit card details nor have access to your credit card information.