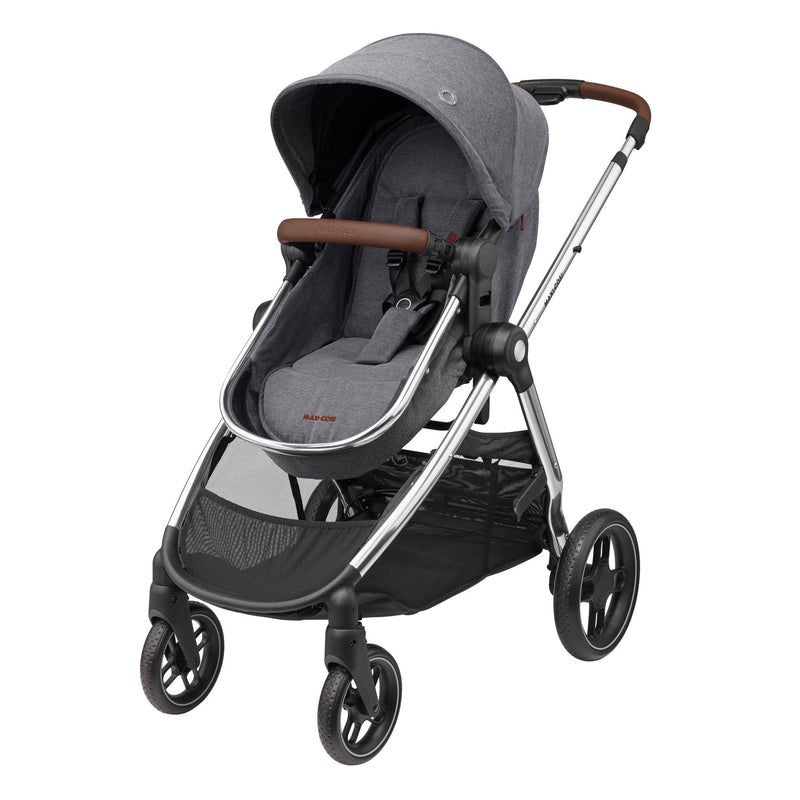 Roll over image to zoom in




Description
Maxi-Cosi's Zelia Luxe in Twillic Grey is the luxury 2-in-1 urban stroller that gives you a stylish and comfortable way to stroll through the city with your little one from day one. Suitable from birth all the way up to 4 years, Zelia Luxe provides you with luxury and comfortable urban living.
Zelia Luxe features a clever and intuitive seat unit that converts into a comfortable bassinet in just 2 steps to give your little one ultimate comfort from birth as you go about your day. The bassinet features a smart one-handed "portfolio" fold that makes packing the bassinet away easy and means that you can do this while still carrying your little one for peace of mind. 
Zelia Luxe's seat unit can also be attached either parent-facing or world-facing with just 2 clicks so that leaving the house in the morning can be done quickly, with no fuss. Zelia Luxe is also a travel system compatible with Maxi-Cosi Group 0+ infant carriers (sold separately) for a convenient travel solution that lets you move from car to street easily.
Zelia Luxe is lightweight for easy handling and manoeuvring through bustling city streets and comes with rear-wheel suspension to maintain a smooth pace even on bumpy cobblestone streets. The height-adjustable handlebar allows for easy steering no matter how tall or short you are, while the lockable swivel wheels and easy braking system makes stopping, starting and turning easy to achieve even in the tightest of spots.
The Zelia Luxe is a special edition pushchair and is part of Maxi Cosi's Luxe collection with premium and stylish finishing and fabrics. The Luxe's comfortable seat and inlay provide your little one with ultimate comfort on every trip out of the house. The fully reclining seat with a lie-flat position gives them a cosy and safe place to nap throughout the day, while the 5-point harness keeps them secure for your peace of mind. 
The removable bumper also gives your toddler a place to grip onto to help them feel secure on more uneven terrains while the integrated sun canopy with peekaboo window and visor keeps them protected from sun glare in the brighter months of the year. The included rain cover also provides them with plenty of shelter from wind and rain on the gloomier days of the year.
For convenience, Zelia Luxe folds without bending and can be stood upright when folded, so that you can easily tuck it away neatly if you want to stop for a refreshing drink or a quick bite to eat while out and about. Zelia Luxe also comes with a large shopping basket perfect for storing anything you grab along the way, or simply for your baby essentials so there's no need to burden yourself with an extra changing bag.
If you like the look of Zelia Luxe, but are eager to discover more options for early years baby travel, then browse our Prams, Pushchairs and Buggies Collection to discover more from Maxi-Cosi and a wide range of other popular brands. 
Key Features
Suitable from birth
Seat unit converts into a bassinet in 2 steps
Parent-facing or road-facing seat in just 2 clicks
Reclining seat with lie-flat position
Height-adjustable handlebar
Travel system compatible
Easy, one-handed fold
Stands upright when folded
Lockable swivel wheels
Rear-wheel suspension
Easy-braking system
Comfy seat and inlay
5-point safety harness
Removable bumper bar
Sun canopy with peekaboo window and visor
Large shopping basket
Specifications
Age suitability: from birth to 4 years
Weight suitability: up to 22kg
Dimensions: 64.5cm x 107cm (approx.)
Dimensions (folded): 64.5cm x 75cm x 36cm (approx.)
Handle height: 98.5cm to 103cm (approx.)
Weight: 9.6kg
Dispatch & Delivery
If you place an order by 12pm between Monday to Friday of an item marked as available for immediate dispatch we will ensure the order is dispatched the same day.  Orders received after that time will be dispatched the following working day.  

DPD PIN Code Deliveries - Customers (recipient) will need to provide their e-mail and mobile number during checkout in order to receive their DPD PIN in order to be able to receive their order.  More information on DPD PIN deliveries can be found here
Availability denotes the length of time the item will take to be available to dispatch. 
Shipping denotes the duration of time that an items takes to reach its destination the either our warehouse or manufacturer's warehouse.  For example an item with "Available in 7-10 working days" and "Standard Delivery" should be expected in 9-12 working days.  Please note working days excludes weekends and bank holidays. 
Our secure website and payment gateways perform a number of security checks against an order.  Any errors on the order could result in delays while we attempt to contact you to clarify any inaccuracies.  At Baby & Co we use a number of carrier services to ensure prompt and speedy delivery, this may include using more than one carrier for an order, however this is rare.
Your order may be dispatched from more than one location including our warehouse or directly from the manufacturer this may result in your order arriving on more than one consignment.  Aside from made to order items and direct delivery we offer the following delivery options. 
With the exception of made to order items and products sent directly by the supplier below you will find our standard delivery terms.  Please note that we only ship within the United Kingdom. 
Please note the following brands only deliver to UK mainland post codes, excluding some Scottish post codes:- Ickle Bubba, Boori, East Coast, Tutti Bambini, Mamas & Papas, Silver Cross Furniture, CuddleCo.
Please note that some nursery furniture deliveries will be to the customer's door, this may exclude internal apartment doors.
Tutti Bambini - If the goods have been sent with the courier, we will now need to charge a 30% handling fee in order to stop them with the carrier and will be refunded less this fee which includes picking, transport and insurance costs.
Silver Cross - Last order date for pre-Christmas furniture delivery is 3rd December 2021 
Standard Delivery

Region

Rate

Delivery Schedule

U.K. mainland
Orders over £49.99 - Free
Orders £34.99 or under - £4.95
2-3 working days
Scottish Highlands
£18 per order
U.K. Islands
& Isle Of Wight
£18 per order
Northern Ireland
£18.00 per order*
Please note - our carriers only work Monday to Fridays (8am - 6pm). We regret our carriers cannot deliver at a specific time. ALL deliveries must be signed for.
Express Delivery

Region

Rate

Delivery Schedule

U.K. mainland
Orders over £49.99 - £7.95
Orders £49.99 or under - £9.99
1-2 working days
Scottish Highlands
£18 per order
U.K. Islands &
Isle Of Wight
£18 per order
Northern Ireland
Not available *
Please note - our carriers only work Monday to Fridays (8am - 6pm). We regret our carriers cannot deliver at a specific time. ALL deliveries must be signed for.
If you are not home and have not responded to the courier's requests for a specific delivery/re-delivery day the courier's terms are that they will leave your order with a neighbour.
*Please note there may be some delays shipping goods to Northern Ireland.
Payment & Security
Your payment information is processed securely. We do not store credit card details nor have access to your credit card information.