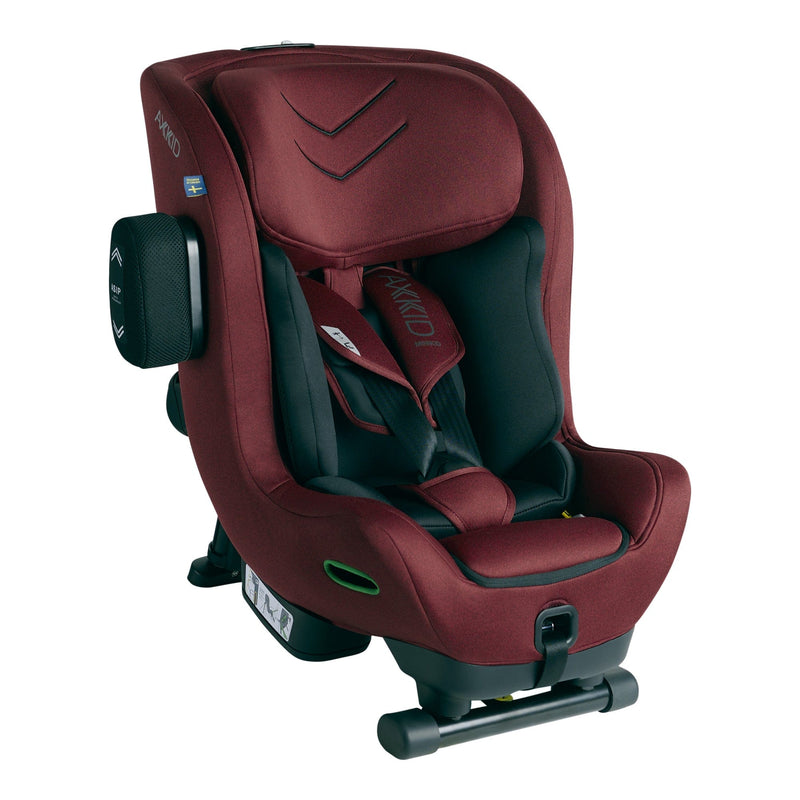 Roll over image to zoom in







Description
Introducing the Axkid Minikid 4: The Ultimate in Child Car Seat Protection
The Axkid Minikid 4 Extended Rear Facing Car Seat in Tile Melange is not just any car seat; it's a secure and spacious sanctuary designed with a Swedish safety mindset. Packed with extensive smart features, this car seat is a true family hero, ensuring your child's safety and comfort on every journey. With up to 30cm of legroom, dynamic headrest technology, and a lightning-fast 60-second installation, the Minikid 4 is the epitome of flexibility and adaptability.
Extended Rear-Facing for Enhanced Safety
Safety is the top priority when it comes to your child's car seat, and the Minikid 4 delivers unparalleled protection. Extending rear-facing capabilities up to 125cm and 36kg, it allows your child to travel in the safest position for the longest period possible. Studies have shown that rear-facing car seats are up to five times safer than forward-facing ones, and with the Minikid 4, you can provide your child with optimal safety as they grow.
Dynamic Headrest Technology
Your child's comfort and safety are perfectly balanced with the Minikid 4's dynamic headrest technology. This innovative feature automatically adapts to your child's size, ensuring the perfect fit or offering 14 fixed positions for optimal support. With the Minikid 4, you can rest assured that your little one's head and neck are protected during every journey.
Effortless 60-Second Installation
Installing the Minikid 4 is a breeze, thanks to its easy installation system and automatic lower tethers. With just a few simple steps, you can secure the car seat in place within 60 seconds, reducing the risk of faulty installations. For additional peace of mind, the BILT application provides an interactive 3D installation guide, ensuring a secure and hassle-free setup.
Ample Leg Space without Compromise
The Minikid 4 offers up to 30cm of legroom without compromising on its compact design. Whether you have a small or larger car, this car seat provides the perfect balance of space and comfort. Its ergonomic sitting and sleeping positions, coupled with the Sleep Well System's multiple reclining options, ensure that your child remains cozy during the journey. The toddler support cushion, made with memory foam and mesh fabric, adds an extra layer of comfort and promotes air circulation for a pleasant ride.
Axkid's Side Impact Protection
When it comes to side-impact collisions, Axkid has your child covered. The Minikid 4 features Axkid's Side Impact Protection (ASIP), developed in collaboration with a renowned German crash institute. ASIP provides premium protection to your child in the event of a side-impact collision, ensuring their safety and well-being. Please note that ASIP is only necessary when the car seat is used on the side facing the car door and not when used in the middle.
New & Improved Seat Fabrics
The Minikid 4 sets a new standard in comfort and cleanliness. The seat cover boasts a 2-way stretch fabric that is not only softer but also more breathable. It is easy to remove and machine-washable, making it simple to keep the car seat fresh and clean for your child. Crafted from non-toxic textiles, the Minikid 4 seat cover prioritizes both safety and convenience.
The Epitome of Comfort and Safety
With the Axkid Minikid 4, you can trust that your child will experience the utmost comfort and safety during every car journey. Building on the success of the Minikid concept, which has garnered acclaim in numerous countries for over a decade, the Minikid 4 incorporates several key updates to enhance your child's well-being. The new textile design, now even softer and more breathable, envelops your child in a cozy seating experience. Additionally, the redesigned headrest geometry ensures a secure and supportive fit, providing optimal head and neck support. The updated toddler support cushion further enhances safety and comfort for even the youngest passengers, allowing them to achieve the ideal and safest position within the car seat.
Invest in the Axkid Minikid 4, the latest addition to our range of innovative, safe, and Swedish Plus-tested car seats. Experience peace of mind, knowing that you are providing your child with the ultimate in child car seat protection.
Axkid Minikid 4 Key Features 

Installs in around 60 seconds
New: Updated headrest geometry
New: Comfort back pad
New: Updated toddler support cushion
New: Seat fabric textiles
New: Updated details & finish
Approved according to R129
Extended rear-facing
Dynamic headrest technology
Force absorbing
Axkid Side impact protection
Automatic lower tether
Toddler support cushion
Multiple recline positions
Easy installation
2-way stretch fabric
Machine washable seat covers
Interactive 3D installation guide via BILT-app (available to download via Appstore or GooglePlay)

Specifications
Installation: Seat belt attachment
Weight suitability: up to 36 kg
Height suitability:  61-125 cm
Safety certification: R129
Plus Tested: Yes, up to 125cm

Seat Dimensions
Width: 44cm
Height: 65cm
Depth: 54cm
Weight: 11kg
Dispatch & Delivery
If you place an order by 12pm between Monday to Friday of an item marked as available for immediate dispatch we will ensure the order is dispatched the same day.  Orders received after that time will be dispatched the following working day.  

DPD PIN Code Deliveries - Customers (recipient) will need to provide their e-mail and mobile number during checkout in order to receive their DPD PIN in order to be able to receive their order.  More information on DPD PIN deliveries can be found here
Availability denotes the length of time the item will take to be available to dispatch. 
Shipping denotes the duration of time that an items takes to reach its destination the either our warehouse or manufacturer's warehouse.  For example an item with "Available in 7-10 working days" and "Standard Delivery" should be expected in 9-12 working days.  Please note working days excludes weekends and bank holidays. 
Our secure website and payment gateways perform a number of security checks against an order.  Any errors on the order could result in delays while we attempt to contact you to clarify any inaccuracies.  At Baby & Co we use a number of carrier services to ensure prompt and speedy delivery, this may include using more than one carrier for an order, however this is rare.
Your order may be dispatched from more than one location including our warehouse or directly from the manufacturer this may result in your order arriving on more than one consignment.  Aside from made to order items and direct delivery we offer the following delivery options. 
With the exception of made to order items and products sent directly by the supplier below you will find our standard delivery terms.  Please note that we only ship within the United Kingdom. 
Please note the following brands only deliver to UK mainland post codes, excluding some Scottish post codes:- Ickle Bubba, Boori, East Coast, Tutti Bambini, Mamas & Papas, Silver Cross Furniture, CuddleCo.
Please note that some nursery furniture deliveries will be to the customer's door, this may exclude internal apartment doors.
Tutti Bambini - If the goods have been sent with the courier, we will now need to charge a 30% handling fee in order to stop them with the carrier and will be refunded less this fee which includes picking, transport and insurance costs.
Silver Cross - Last order date for pre-Christmas furniture delivery is 3rd December 2021 
Standard Delivery

Region

Rate

Delivery Schedule

U.K. mainland
Orders over £49.99 - Free
Orders £34.99 or under - £4.95
2-3 working days
Scottish Highlands
£18 per order
U.K. Islands
& Isle Of Wight
£18 per order
Northern Ireland
£18.00 per order*
Please note - our carriers only work Monday to Fridays (8am - 6pm). We regret our carriers cannot deliver at a specific time. ALL deliveries must be signed for.
Express Delivery

Region

Rate

Delivery Schedule

U.K. mainland
Orders over £49.99 - £7.95
Orders £49.99 or under - £9.99
1-2 working days
Scottish Highlands
£18 per order
U.K. Islands &
Isle Of Wight
£18 per order
Northern Ireland
Not available *
Please note - our carriers only work Monday to Fridays (8am - 6pm). We regret our carriers cannot deliver at a specific time. ALL deliveries must be signed for.
If you are not home and have not responded to the courier's requests for a specific delivery/re-delivery day the courier's terms are that they will leave your order with a neighbour.
*Please note there may be some delays shipping goods to Northern Ireland.
Payment & Security
Your payment information is processed securely. We do not store credit card details nor have access to your credit card information.