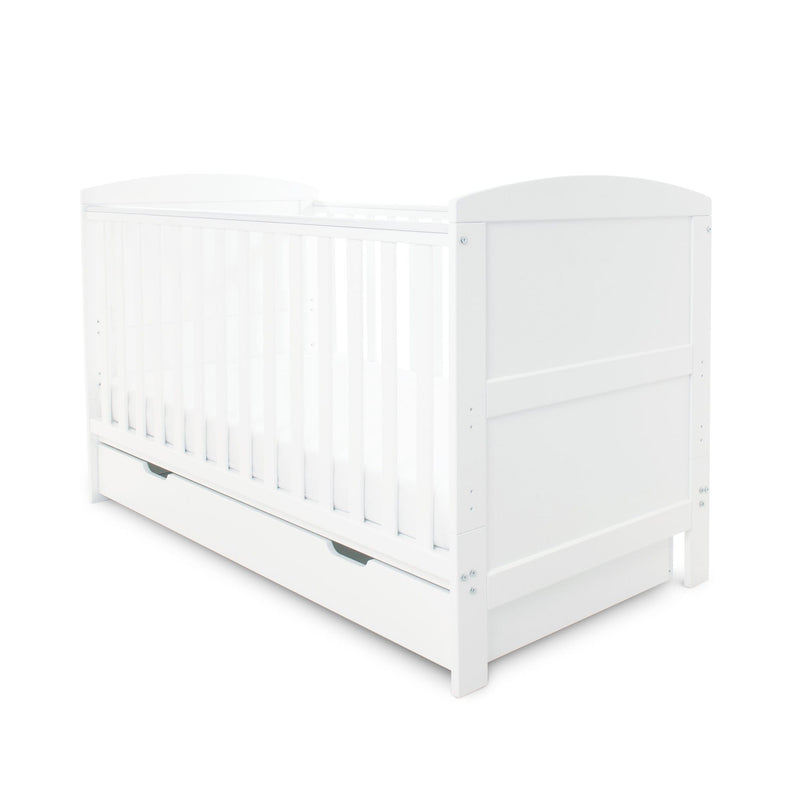 Roll over image to zoom in








---
Use 'baby5' to save an extra 5% at checkout!
Description
Ickle Bubba Coleby Classic Cot Bed
With a fresh, neutral design, the Coleby Classic Cot Bed is unobtrusive, blending perfectly into your decor to give a light and airy feel to your nursery. The understated palette of the Coleby allows it to complement any interior taste, so it'll never look out of place no matter your decor. 
Additionally, boasting a 3 position adjustable base, you can adapt the Classic Cot to your growing little one. The higher position is ideal for when baby is very little, saving you from stooping over the cot necessarily, in turn sparing your back. The base can then be lowered as baby grows to keep them safe and secure. Plus, with traditional open slatted sides you can keep an eye on your little one as they sleep.
Once your little one is not so little anymore, the Coleby Classic Cot can be converted into a chic toddler bed, seeing baby right through their early childhood. 
Under Drawer
The Coleby Cot Bed Under Drawer in White is a subtle storage solution to help you keep your nursery tidy and organised. Matching the cot with a clean white finish, the Coleby Under Drawer gives a seamless, tidy finish to the set.
Mattresses
You have a choice between six different add-on mattresses to complete your Ickle Bubba Coleby Classic Cot Bed. These are all 100% breathable for your little one's comfort and have also been designed with your convenience in mind. They have easily removable and washable mattress covers so those inevitable little baby messes need not be an issue, giving you more time to enjoy your baby without worrying about housekeeping.
Foam
The foam mattress is TPP free and crafted from a nursery grade foam and hypoallergenic materials to ensure your baby has a peaceful and comfortable night's sleep.
Sprung
The Sprung mattress option consists of a Bonnel spring unit which is enclosed in the same nursery-grade foam for that added comfort.
Pocket Sprung

The Pocket Sprung mattress is a multi-layered pocket sprung mattress which provides even support for your little one's delicate form. 
Elegant
The Elegant mattress is a multi-layered pocket sprung mattress. Each of the mattress's 190 springs is enclosed in its own 'pocket' of material, providing excellent support for your little one. The top layers are made with high quality moisture absorbing technology to keep the surface dry and comfortable for baby. 
Deluxe
The Deluxe mattress option features a dual core design which means that one side has a firmer surface to support your fragile newborn, and the reverse side has more cushioning for your toddler to snuggle up on. It is also designed with a thermoregulatory Coolmax performance fabric which provides your child with comfort through every season. During the summer it improves air circulation and reduces humidity to keep your baby cool and comfortable, and during the colder months its quilting will keep your little one cosy and warm.
Finest
Outfitted with a whole host of innovative technology, the Finest mattress will furnish your child with optimum comfort and support. Made with Coolmax fabrics and featuring not only Dual Core but also an indulgent 220 individual pocket springs for added luxury and also a removable cover to keep the mattress clean and fresh for your precious bundle.
If you have any questions at all regarding which mattress is the right choice for you, please do not hesitate to contact one of our sales team who would love to talk you through this important decision.
Alternatively, you can check out our blog post on 'How to Choose the Right Cot Bed Mattress', which details the pros and cons of each type, so you can see which one is the best fit for you. You can read it here.
Key features
Adjustable, three-position base height
Easily converts into a chic toddler bed
Toddler bed mode with side rails
Coordinates perfectly with Coleby furniture range (sold separately)
Specifications
Suitability: Birth to 4 years old
Dimensions: H95 x W75 x L144 cm
Accommodates a 140 x 70cm mattress
Dispatch & Delivery
If you place an order by 12pm between Monday to Friday of an item marked as available for immediate dispatch we will ensure the order is dispatched the same day.  Orders received after that time will be dispatched the following working day.  

DPD PIN Code Deliveries - Customers (recipient) will need to provide their e-mail and mobile number during checkout in order to receive their DPD PIN in order to be able to receive their order.  More information on DPD PIN deliveries can be found here
Availability denotes the length of time the item will take to be available to dispatch. 
Shipping denotes the duration of time that an items takes to reach its destination the either our warehouse or manufacturer's warehouse.  For example an item with "Available in 7-10 working days" and "Standard Delivery" should be expected in 9-12 working days.  Please note working days excludes weekends and bank holidays. 
Our secure website and payment gateways perform a number of security checks against an order.  Any errors on the order could result in delays while we attempt to contact you to clarify any inaccuracies.  At Baby & Co we use a number of carrier services to ensure prompt and speedy delivery, this may include using more than one carrier for an order, however this is rare.
Your order may be dispatched from more than one location including our warehouse or directly from the manufacturer this may result in your order arriving on more than one consignment.  Aside from made to order items and direct delivery we offer the following delivery options. 
With the exception of made to order items and products sent directly by the supplier below you will find our standard delivery terms.  Please note that we only ship within the United Kingdom. 
Please note the following brands only deliver to UK mainland post codes, excluding some Scottish post codes:- Ickle Bubba, Boori, East Coast, Tutti Bambini, Mamas & Papas, Silver Cross Furniture, CuddleCo.
Please note that some nursery furniture deliveries will be to the customer's door, this may exclude internal apartment doors.
Tutti Bambini - If the goods have been sent with the courier, we will now need to charge a 30% handling fee in order to stop them with the carrier and will be refunded less this fee which includes picking, transport and insurance costs.
Silver Cross - Last order date for pre-Christmas furniture delivery is 3rd December 2021 
Standard Delivery

Region

Rate

Delivery Schedule

U.K. mainland
Orders over £49.99 - Free
Orders £34.99 or under - £4.95
2-3 working days
Scottish Highlands
£18 per order
U.K. Islands
& Isle Of Wight
£18 per order
Northern Ireland
£18.00 per order*
Please note - our carriers only work Monday to Fridays (8am - 6pm). We regret our carriers cannot deliver at a specific time. ALL deliveries must be signed for.
Express Delivery

Region

Rate

Delivery Schedule

U.K. mainland
Orders over £49.99 - £7.95
Orders £49.99 or under - £9.99
1-2 working days
Scottish Highlands
£18 per order
U.K. Islands &
Isle Of Wight
£18 per order
Northern Ireland
Not available *
Please note - our carriers only work Monday to Fridays (8am - 6pm). We regret our carriers cannot deliver at a specific time. ALL deliveries must be signed for.
If you are not home and have not responded to the courier's requests for a specific delivery/re-delivery day the courier's terms are that they will leave your order with a neighbour.
*Please note there may be some delays shipping goods to Northern Ireland.
Payment & Security
Your payment information is processed securely. We do not store credit card details nor have access to your credit card information.