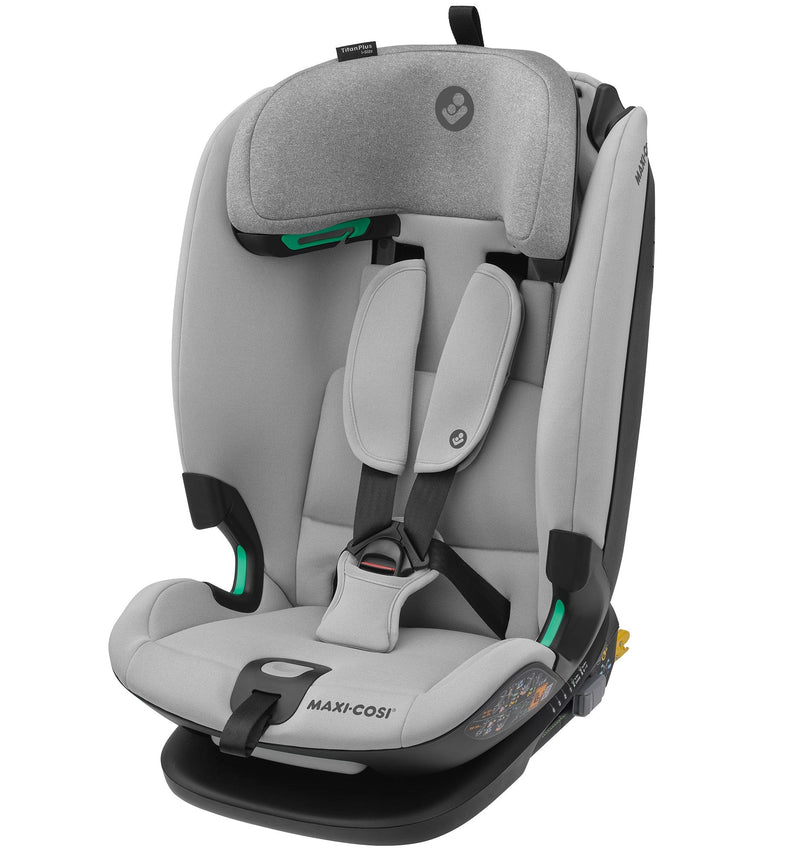 Roll over image to zoom in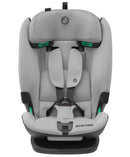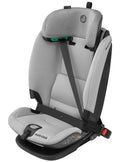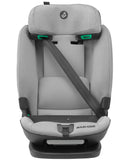 Description
Introducing the Titan Plus i-Size: Your Child's Ultimate Travel Companion
At the heart of every parent's priorities is ensuring the safety and comfort of their precious little ones. That's why we proudly present the Maxi-Cosi Titan Plus i-Size in Authentic Grey, the steadfast guardian designed to accompany your child on their journey from 15 months to 12 years. This remarkable car seat offers exceptional safety features, ergonomic design, and the peace of mind you deserve.

Safety Uncompromised: G-CELL Side Impact Technology
Safety is our foremost concern, and the Titan Plus i-Size stands as a testament to that commitment. Boasting the same cutting-edge G-CELL Side Impact Technology found in its premium sibling, the Titan Pro i-Size, this car seat provides maximum protection, cocooning your child in a secure haven during every ride.

A World of Comfort: Multiple Recline Positions
We understand that comfort is key to a tranquil journey. With the Titan Plus i-Size, your child can enjoy the ride in one of its four relaxing recline positions. Whether they're taking a peaceful nap or simply sitting back, this car seat adapts to their preferences, making every trip a comfortable adventure.

A Seat That Grows With Your Child
One of the joys of parenthood is watching your child grow, and the Titan Plus i-Size is designed to grow right alongside them. From those tender 15 months through the spirited years of childhood, this multi-age car seat is there for every milestone, ensuring safety and comfort at every stage.
Softly Padded Headrest for Added Comfort
To ensure your child's head and neck are snugly supported, the Titan Plus i-Size features soft foam cushioning in the headrest. It's the little details that make all the difference, and this thoughtful addition ensures your child's comfort throughout the journey.


Titan Plus i-Size Key Features:

Highest i-Size Safety Standard:
Maxi-Cosi adhere to the most stringent safety standards to provide your child with the highest level of protection.


ISOFIX Installation with Top Tether:
Installation is a breeze with the ISOFIX system, reinforced with a Top Tether for rock-solid stability.


Easy Headrest & Harness Adjustment in 15 Positions:
As your child grows, so does their need for adjustments. With 15 positions for headrest and harness adjustments, the Titan Plus i-Size accommodates your child's changing needs effortlessly.


Quick and Easy Buckling Up in Highback Booster Mode:
Transitioning to highback booster mode has never been easier, ensuring your child's safety is never compromised


5-Point Safety Harness:
The 5-point safety harness provides an additional layer of security, ensuring your child is snugly and safely strapped in for every journey.

The Titan Plus i-Size is more than just a car seat; it's a guardian, a comfort zone, and a trusted companion throughout your child's growing years. Give them the gift of safety, comfort, and peace of mind with the Titan Plus i-Size—a true testament to our dedication to your child's well-being.

Invest in their safety. Invest in their comfort. Invest in their journey. Invest in the Titan Plus i-Size. 
Shop the complete Maxi-Cosi Titan Collection here
Key Features
Suitable from 15 months to

 

12 years
G-CELL side-impact technology
Simultaneous harness and headrest adjustment
Multiple recline positions
ISOFIX installation 
Complies with EU regulation R129
Washable cover
Specifications
Age suitability: from 15 months to 12 years
Weight suitability: from 12kg to 36kg
Dispatch & Delivery
If you place an order by 12pm between Monday to Friday of an item marked as available for immediate dispatch we will ensure the order is dispatched the same day.  Orders received after that time will be dispatched the following working day.  

DPD PIN Code Deliveries - Customers (recipient) will need to provide their e-mail and mobile number during checkout in order to receive their DPD PIN in order to be able to receive their order.  More information on DPD PIN deliveries can be found here
Availability denotes the length of time the item will take to be available to dispatch. 
Shipping denotes the duration of time that an items takes to reach its destination the either our warehouse or manufacturer's warehouse.  For example an item with "Available in 7-10 working days" and "Standard Delivery" should be expected in 9-12 working days.  Please note working days excludes weekends and bank holidays. 
Our secure website and payment gateways perform a number of security checks against an order.  Any errors on the order could result in delays while we attempt to contact you to clarify any inaccuracies.  At Baby & Co we use a number of carrier services to ensure prompt and speedy delivery, this may include using more than one carrier for an order, however this is rare.
Your order may be dispatched from more than one location including our warehouse or directly from the manufacturer this may result in your order arriving on more than one consignment.  Aside from made to order items and direct delivery we offer the following delivery options. 
With the exception of made to order items and products sent directly by the supplier below you will find our standard delivery terms.  Please note that we only ship within the United Kingdom. 
Please note the following brands only deliver to UK mainland post codes, excluding some Scottish post codes:- Ickle Bubba, Boori, East Coast, Tutti Bambini, Mamas & Papas, Silver Cross Furniture, CuddleCo.
Please note that some nursery furniture deliveries will be to the customer's door, this may exclude internal apartment doors.
Tutti Bambini - If the goods have been sent with the courier, we will now need to charge a 30% handling fee in order to stop them with the carrier and will be refunded less this fee which includes picking, transport and insurance costs.
Silver Cross - Last order date for pre-Christmas furniture delivery is 3rd December 2021 
Standard Delivery

Region

Rate

Delivery Schedule

U.K. mainland
Orders over £49.99 - Free
Orders £34.99 or under - £4.95
2-3 working days
Scottish Highlands
£18 per order
U.K. Islands
& Isle Of Wight
£18 per order
Northern Ireland
£18.00 per order*
Please note - our carriers only work Monday to Fridays (8am - 6pm). We regret our carriers cannot deliver at a specific time. ALL deliveries must be signed for.
Express Delivery

Region

Rate

Delivery Schedule

U.K. mainland
Orders over £49.99 - £7.95
Orders £49.99 or under - £9.99
1-2 working days
Scottish Highlands
£18 per order
U.K. Islands &
Isle Of Wight
£18 per order
Northern Ireland
Not available *
Please note - our carriers only work Monday to Fridays (8am - 6pm). We regret our carriers cannot deliver at a specific time. ALL deliveries must be signed for.
If you are not home and have not responded to the courier's requests for a specific delivery/re-delivery day the courier's terms are that they will leave your order with a neighbour.
*Please note there may be some delays shipping goods to Northern Ireland.
Payment & Security
Your payment information is processed securely. We do not store credit card details nor have access to your credit card information.