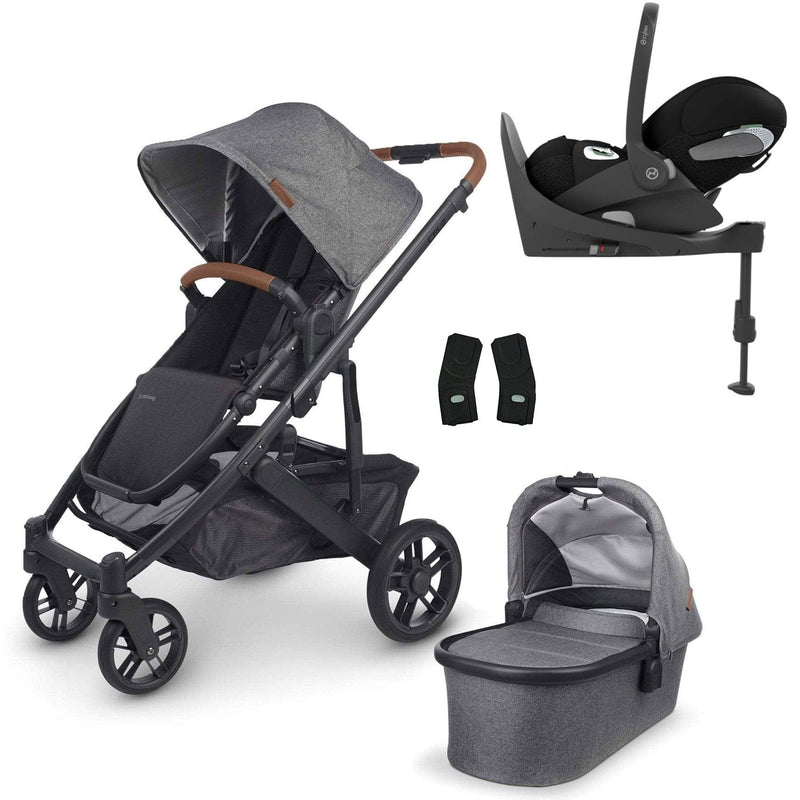 Roll over image to zoom in






Description
This bundle includes the Uppababy Cruz v2 Pushchair & bassinet in Greyson as well as the Cybex Cloud T Infant Car Seat, Base T and now the necessary car seat adapters making this travel system the perfect from birth solution so you can use it on the drive home from the hospital with your little one! 

Uppababy Cruz v2 Pram
Manoeuvre through crowded malls, over cobblestone streets and down narrow country lanes with ease and speed using the Cruz V2. Featuring a reversible toddler seat, every stroll can be a new adventure for your little one - and if adventuring gets too much for them, then the multi-position recline options are perfect for on the go naps. The recline is also achievable with just one hand!
To add to your little one's comfort, the toddler seat features a zip-out UPF50+ canopy that also extends to allow for additional sun protection on those sunnier summer days. The canopy also features handy mesh panels to allow for good air flow to your toddler, as well as a simple way to check on your little one while you stroll. Alongside this, the Cruz V2 allows the comfort to continue as your little one grows, due to the canopy's easy slide, height adjustment. The handlebar can also be height-adjusted to allow for a comfortable push for whoever is at the wheel.
The Cruz V2 also offers an extremely high level of strolling comfort due to its shock-absorbing, full-wheel suspension. 
When you're done for the day, you can take full advantage of the amazing one-step fold offered by the Cruz V2. Simple and intuitive, the stroller is designed to stand on its own when folded and the Cruz V2 can even be folded with or without the Toddler Seat attached so that you don't have to worry about dismantling the pram before putting it away.
The Cruz can be turned into a brilliant from birth solution featuring the Bassinet accessory that allows baby to lie completely flat in a safe and healthy environment.
The Cruz V2 is also travel system compatible meaning that you can attach the Cloud T infant car seat included in this bundle directly onto the Cruz for ultimate portability and safety, with no need to sacrifice high performance for convenience.

Cybex Cloud T i-Size Car Seat
The new Cloud T is the new Car Seat and Base from Cybex and is compatible with lots of different travel systems. It is very similar to the Cloud Z with the same dimensions and a very similar design, however, it is able to recline inside of the car and whilst driving whereas the Cloud Z only supported reclining out of the car. When in combination with the Cloud T base, the Cloud T Car Seat can be spun 360 degrees, towards the door for ease when taking babies out of their seats. You can ensure that you are purchasing a Cloud T by the green guides on the seat.  
The Cybex Cloud T i-Size features 360 degree rotation, near-flat lying position, automatic adjustable headrest and Linear Side-Impact Protection, making it one of the safest car seats on the market. 


360 Degree Rotation
The 360 degree rotation mechanism available when used in conjunction with the Base T included in this bundle allows for easy access to both the car seat and your baby, putting less strain on your back when transporting your child in and out of the car. 


Near-flat lying position
Research suggests that allowing babies to sleep for long periods of time in an upright position (approximately a 40 degree angle) can have a negative impact on their breathing when compared to lying flat. The Cybex Cloud T i-Size allows for near-flat positioning when out of the car, enabling you to provide your baby with more comfortable seating when you're out and about. 
Adjustable Headrest
The Cloud T i-Size also features an automatic adjustable headrest, which grows with your baby and delivers maximum support and comfort, allowing the sitting angle to be altered depending on their needs.
 
Safety Features
As with all Cybex car seats, the Cloud T i-Size features Linear Side-Impact Protection (L.S.P) as standard, which withdraws from the backrest of the seat to provide additional impact absorption away from the head, neck and upper body of your baby in the event of a side-on collision. Coupled with the energy-absorbing shell and adjustable headrest, the Cloud T i-Size reduces side-impact force by approximately 25%. 
Cybex Base T
Using the Base T alongside the Cloud T i-Size allows you to rotate the car seat a full 360 degrees whilst remaining fitted to the base. 
The Base T has a simple one-click installation feature, making it quick and simple to use when on-the-go, and provides safety indicators on the ISOFIX points to ensure the base is fitted correctly, even when you're in a rush. 
Secure the base to your car with ISOFIX connectors, using the prop for additional stability and safety. 
Key Features 
Includes bassinet to become suitable from birth
Protective Cloud T infant car seat
Easy car installation using base
Reversible toddler seat
One-handed multi-position recline
Extendable UPF50+ canopy
Telescoping handlebar
Full-grain leather grip
Shock-absorbing, independent all wheel suspension
Extra-large, easy-access shopping basket 
Stands when folded
One-handed canopy height adjustment

Specifications
Cruz V2 Pushchair 

Suitability: 6 months to 22 kg
True Weight (includes canopy, wheels, and basket)
Frame + Seat: 11.6 kg
Frame: 8.6 kg
Seat: 3 kg

Unfolded: 95.3 L × 57.8 W × 101.6 H cm
Folded with seat attached: 41.9 L × 57.8 W × 83.8 H cm
Folded without seat attached: 30.5 L × 57.8 W × 76.2 H cm
Cloud T Car Seat
Suitability: 0 - 18 months (0 - 13kg)
45 - 87 cm, max. 13 kg


Dispatch & Delivery
If you place an order by 12pm between Monday to Friday of an item marked as available for immediate dispatch we will ensure the order is dispatched the same day.  Orders received after that time will be dispatched the following working day.  

DPD PIN Code Deliveries - Customers (recipient) will need to provide their e-mail and mobile number during checkout in order to receive their DPD PIN in order to be able to receive their order.  More information on DPD PIN deliveries can be found here
Availability denotes the length of time the item will take to be available to dispatch. 
Shipping denotes the duration of time that an items takes to reach its destination the either our warehouse or manufacturer's warehouse.  For example an item with "Available in 7-10 working days" and "Standard Delivery" should be expected in 9-12 working days.  Please note working days excludes weekends and bank holidays. 
Our secure website and payment gateways perform a number of security checks against an order.  Any errors on the order could result in delays while we attempt to contact you to clarify any inaccuracies.  At Baby & Co we use a number of carrier services to ensure prompt and speedy delivery, this may include using more than one carrier for an order, however this is rare.
Your order may be dispatched from more than one location including our warehouse or directly from the manufacturer this may result in your order arriving on more than one consignment.  Aside from made to order items and direct delivery we offer the following delivery options. 
With the exception of made to order items and products sent directly by the supplier below you will find our standard delivery terms.  Please note that we only ship within the United Kingdom. 
Please note the following brands only deliver to UK mainland post codes, excluding some Scottish post codes:- Ickle Bubba, Boori, East Coast, Tutti Bambini, Mamas & Papas, Silver Cross Furniture, CuddleCo.
Please note that some nursery furniture deliveries will be to the customer's door, this may exclude internal apartment doors.
Tutti Bambini - If the goods have been sent with the courier, we will now need to charge a 30% handling fee in order to stop them with the carrier and will be refunded less this fee which includes picking, transport and insurance costs.
Silver Cross - Last order date for pre-Christmas furniture delivery is 3rd December 2021 
Standard Delivery

Region

Rate

Delivery Schedule

U.K. mainland
Orders over £49.99 - Free
Orders £34.99 or under - £4.95
2-3 working days
Scottish Highlands
£18 per order
U.K. Islands
& Isle Of Wight
£18 per order
Northern Ireland
£18.00 per order*
Please note - our carriers only work Monday to Fridays (8am - 6pm). We regret our carriers cannot deliver at a specific time. ALL deliveries must be signed for.
Express Delivery

Region

Rate

Delivery Schedule

U.K. mainland
Orders over £49.99 - £7.95
Orders £49.99 or under - £9.99
1-2 working days
Scottish Highlands
£18 per order
U.K. Islands &
Isle Of Wight
£18 per order
Northern Ireland
Not available *
Please note - our carriers only work Monday to Fridays (8am - 6pm). We regret our carriers cannot deliver at a specific time. ALL deliveries must be signed for.
If you are not home and have not responded to the courier's requests for a specific delivery/re-delivery day the courier's terms are that they will leave your order with a neighbour.
*Please note there may be some delays shipping goods to Northern Ireland.
Payment & Security
Your payment information is processed securely. We do not store credit card details nor have access to your credit card information.