Roll over image to zoom in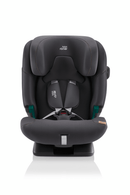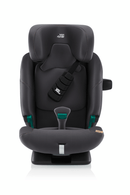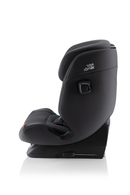 ---
Use 'baby5' to save an extra 5% at checkout!
Available in 7-10 working days
Description
The Britax Römer ADVANSAFIX PRO offers unwavering support for your child, remaining a steadfast companion whenever they need it. With a commitment to safety that spans years, this versatile seat is designed to adapt as your child grows. It meets the latest i-Size safety standards (UN R129), providing the utmost protection for your little one on every journey.
Transitioning from a harnessed seat to a highback booster is a breeze, accommodating children from 15 months to 12 years of age. What's more, the 5-point harness remains effective for taller children, offering protection up to 105cm - a remarkable feature!
Enhanced by soft-performance chest pads, the ADVANSAFIX PRO minimizes your child's movement during a collision. These pads not only add comfort to the secure 5-point harness but can also be easily removed for washing without the need to detach the straps when those inevitable messy moments occur.
Enhanced safety and comfort
Suitable from 15 months to 12 years, the Advansafix i-Size is the only car seat your little one will need after the newborn stage and boasts a range of advanced safety features that offer your child the best possible protection in any type of accident. Advansafix i-Size offers you the ability to keep your child in the safety of a 5-point harness up to 21kg, giving them the heightened security of a 5-point safety harness for much longer than with traditional seats.
Advansafix i-Size offers your little one maximum comfort and ultimate flexibility. Featuring the Flip & Grow function, Advansafix i-Size allows you to change from the integrated 5-point harness to your car's 3-point seat belt quickly and easily. The Flip & Grow function lets you adjust the headrest, and stow the harness safely away in the backrest. After this, you can simply switch the Flip & Grow adjustment plate so that the SecureGuard is above the seat, and you're ready to get going! Additionally, if you need to switch the seat back, then you can do that quickly and easily because no parts need to be removed from the seat when changing stages. 
Advanced Side Impact Protection – SICT -
Shield your precious one in the case of a side impact with remarkable lateral protection. The Side Impact Cushion Technology (SICT) lessens the gap between the car and the car seat, cutting the power of a collision by as much as 40%*, and diverting the forces far from your bundle of joy. Quickly attach the SICT to the side of the car seat close to the door, and you can be sure you're providing your child with the highest levels of safety.
Comfortable & protective headrest -
Offering advanced protection in the event of a side collision, the V-shaped headrest limits your child's head movement, safeguarding their neck while allowing them to grow. Quick and easy adjustments to the headrest and harness ensure your child is always comfortable and secure.
Protection in all the right places -
Your natural gut instinct is to protect your precious one from any danger; you can do just that with the SecureGuard in the event of a frontal collision. This extra fourth contact point secures the lap belt across your tot's pelvis, cutting abdominal pressure by up to 35%* - without restricting their movement. Keep your growing little one comfy during your trip with the help of this feature. *Britax Römer internal tests and simulations

Trusted Brand-

Britax-Romer guarantees the highest quality possible from their car seats, thanks to their in-house, state-of-the-art crash test facility at Britax-Romer in Germany. They keep the whole product development process under one roof, from the initial idea all the way to the finished product, you can be assured that Britax-Romer have ensured the highest quality at every stage of development.

Click here to view our range of Advansafix car seats by Britax-Romer or view our entire range from Britax-Romer here.
Features-
Approved to the latest i-Size safety standards (UN R129)
Grows with your child from 15 months to 12 years
Soft performance chest pads can be removed for washing
Advanced Side Impact Protection (SICT)
V-shaped headrest limits movement of child's head
Shock-absorbing foam XP-Pad reduces abrupt forward head movement
SecureGuard adds extra fourth contact point to secure lap belt
EasyRecline function for comfortable sleeping
FLIP&GROW function for easy adjustment
Quick-remove washable cover
Specifications-
ISOFIX with Top Tether (76 – 105 cm
Belted with ISOFIX attachment (100 – 150 cm)
Belted (100 – 150 cm)
Dispatch & Delivery
If you place an order by 12pm between Monday to Friday of an item marked as available for immediate dispatch we will ensure the order is dispatched the same day.  Orders received after that time will be dispatched the following working day.  

DPD PIN Code Deliveries - Customers (recipient) will need to provide their e-mail and mobile number during checkout in order to receive their DPD PIN in order to be able to receive their order.  More information on DPD PIN deliveries can be found here
Availability denotes the length of time the item will take to be available to dispatch. 
Shipping denotes the duration of time that an items takes to reach its destination the either our warehouse or manufacturer's warehouse.  For example an item with "Available in 7-10 working days" and "Standard Delivery" should be expected in 9-12 working days.  Please note working days excludes weekends and bank holidays. 
Our secure website and payment gateways perform a number of security checks against an order.  Any errors on the order could result in delays while we attempt to contact you to clarify any inaccuracies.  At Baby & Co we use a number of carrier services to ensure prompt and speedy delivery, this may include using more than one carrier for an order, however this is rare.
Your order may be dispatched from more than one location including our warehouse or directly from the manufacturer this may result in your order arriving on more than one consignment.  Aside from made to order items and direct delivery we offer the following delivery options. 
With the exception of made to order items and products sent directly by the supplier below you will find our standard delivery terms.  Please note that we only ship within the United Kingdom. 
Please note the following brands only deliver to UK mainland post codes, excluding some Scottish post codes:- Ickle Bubba, Boori, East Coast, Tutti Bambini, Mamas & Papas, Silver Cross Furniture, CuddleCo.
Please note that some nursery furniture deliveries will be to the customer's door, this may exclude internal apartment doors.
Tutti Bambini - If the goods have been sent with the courier, we will now need to charge a 30% handling fee in order to stop them with the carrier and will be refunded less this fee which includes picking, transport and insurance costs.
Silver Cross - Last order date for pre-Christmas furniture delivery is 3rd December 2021 
Standard Delivery

Region

Rate

Delivery Schedule

U.K. mainland
Orders over £49.99 - Free
Orders £34.99 or under - £4.95
2-3 working days
Scottish Highlands
£18 per order
U.K. Islands
& Isle Of Wight
£18 per order
Northern Ireland
£18.00 per order*
Please note - our carriers only work Monday to Fridays (8am - 6pm). We regret our carriers cannot deliver at a specific time. ALL deliveries must be signed for.
Express Delivery

Region

Rate

Delivery Schedule

U.K. mainland
Orders over £49.99 - £7.95
Orders £49.99 or under - £9.99
1-2 working days
Scottish Highlands
£18 per order
U.K. Islands &
Isle Of Wight
£18 per order
Northern Ireland
Not available *
Please note - our carriers only work Monday to Fridays (8am - 6pm). We regret our carriers cannot deliver at a specific time. ALL deliveries must be signed for.
If you are not home and have not responded to the courier's requests for a specific delivery/re-delivery day the courier's terms are that they will leave your order with a neighbour.
*Please note there may be some delays shipping goods to Northern Ireland.
Returns
All returns are processed through the retailer and not the manufacturer; please contact us regarding any after-sales issues. We endeavour to offer an impartial returns procedure for the benefit of all parties. To enable us to process your claim as efficiently as possible please follow this procedure, failure to follow this procedure could result in delays in processing your claim or return. 
In the first instance contact our returns department on returns@babyandco.com or write to us with the following information:
Order Number
Name (Person who placed the order)
Contact telephone number.
Date of Purchase
Faulty Item (Product description)
Details of Fault (Description of fault)
If possible digital photos could also be sent to help identify the problem.
We will then, depending on the issue, either contact you to discuss the matter further or issue you with a returns authorisation number. Please note returns sent back without a returns number may be refused or could result in delays in processing.
If it is felt that the goods need to be returned for inspection you will need to do the following.
Box the item ready for collection. It is wise to retain the original packaging for this purpose. Our shipping company will not collect items which are not properly packaged
Contact us at returns@babyandco.com to arrange collection. Please book your collection at least 2 days in advance and between Monday – Friday. Collections are arranged generally with DHL and are not timed so please ensure you are home all day on the selected date. If a collection is scheduled and you are not home as arranged you will be charged a £8.00 for the aborted collection
Please include your Returns Authorisation Number (RAN), proof of purchase and a description of the fault.
If you are not satisfied with your purchase, please return unused and its original packaging with any tags still attached for an exchange or refund. We do not accept returns on personalised items or hygiene sensitive items including duvets and mattresses once they have been removed from their protective wrappers. This does not affect your statutory rights.
We will refund the full amount to the original payment method excluding any shipping costs
Credit/debit card refunds can take up to 10 working days to be processed by your bank, we are unable to expedite this process.
Returned orders remain the customer's responsibility until safely received by us. We recommend using a reliable carrier and insuring the parcel for loss or damage. Alternately you can take advantage of our carrier service please contact us for a quotation.
Replacements, refunds or exchanges of damaged or incorrectly ordered items will not be processed until the original items are received and inspected.
If goods form part of a bundle then the whole order will need to be returned or the remaining items will revert to their normal recommended retail price and you will be refunded accordingly.
We reserve the right to refuse a refund if the condition of the goods are subject to normal wear and tear, misuse or damage.
Please note we are unable to offer a loan or replacement product while your return is being inspected or repaired. Proof of purchase must accompany any warranty claim. Most nursery items come with a 6 months guarantee; however some products have longer warranty periods, please check your warranty book for more details. This does not affect your statutory rights. If a fault develops within the guarantee period, we will arrange collection and inspection in our workshop. If the failure is confirmed to be due to a manufacturing fault we will arrange repair, or replacement if the repair in uneconomical.
If the fault is due to fair wear and tear, damage or misuse we will quote for a rectification and you will also be liable for the carriage charges, which are currently £18 per parcel*.
In the event of a dispute as to the cause of the failure the product will be sent to the manufacturer who will establish if the fault is covered by the manufacturer's warranty. 
In the event the manufacturer identifies the fault is due to fair wear and tear, damage or misuse you will be liable for all carriage costs and any repair costs if you wish the product to be repaired.
Our workshop will be happy to quote for any non-warranty repair. All returned product must be carefully packed in cardboard. It is wise to retain original cartons for this purpose. If a collection is scheduled and you are not home as arranged you will be charged £8.00 for the aborted collection.
For furniture returns please read our terms and conditions page under the section Nursery Furniture Return Conditions.
Payment & Security
Your payment information is processed securely. We do not store credit card details nor have access to your credit card information.