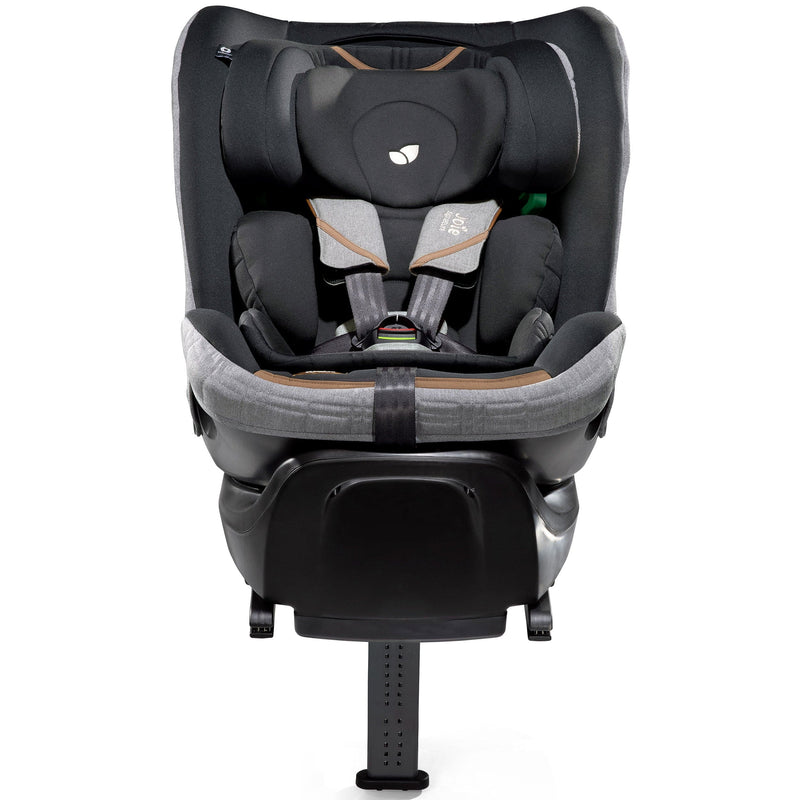 Roll over image to zoom in







Description
Experience the convenience of effortless rotation and uninterrupted growth with the Joie  i-Spin™ XL in Carbon, the revolutionary multi-age car seat from the Joie Signature collection. Designed to satisfy to your child's needs from birth up to 12 years, this car seat combines luxury, safety, and long-term value, ensuring a secure and comfortable ride every time.
Safety First, Always:
The Joie i-Spin™ XL prioritises your child's safety with its advanced features: 
Tri-Protect™ Headrest: Enjoy peace of mind with three layers of protection inside the wings, including the innovative Intelli-Fit™ memory foam. Your child's delicate head and neck will be securely cradled throughout the journey. 
Guard Surround Safety™ Pods: Optimal side impact protection is provided by these specialised pods, offering an additional layer of security for your little one. 
Steel Reinforced ISOFIX Connectors: The i-Spin™ XL connects firmly to your vehicle's anchor points through its steel-reinforced ISOFIX connectors, providing a stable and reliable installation.


Convenience at Your Fingertips:
The Joie i-Spin™ XL - Carbon is designed to simplify your daily routines:
Swivel Lock Off: The swivel lock off feature prevents the car seat from turning forward-facing until your child reaches at least 15 months, ensuring their safety during the early stages. 
One-Pull Motion Harness: Tighten the 5-point harness effortlessly with a single pull motion, ensuring a snug and secure fit for your child. 
On-the-Go Recline: The 5-position recline can be adjusted both rearward and forward-facing, offering comfort and support during every journey. 
Grow-With-Me Infant Insert: The Joie Spin XL combination car seat comes with a tailored infant insert that consists of three individual pieces, providing a custom fit for your child at any stage of their growth.
Luxurious Comfort & Ease Of Use:
Indulge your child in a premium seating experience:
Built-in Ventilation: Enhanced airflow is achieved through the built-in side and back ventilation, keeping your child cool and comfortable even on longer drives.

Plush Deluxe Cushioning and Breathable Fabrics: The i-Spin™ XL features luxurious cushioning and breathable fabrics, ensuring a cozy and comfortable ride for your little one.

360º Seat Rotation: The Joie i-Spin™ XL effortlessly rotates 360 degrees, allowing you to buckle your child in and out of the vehicle with ease.

Simple Swivel™ Turning Activator: The turning activator is conveniently positioned within reach, enabling you to effortlessly spin the car seat without any strain.

AutoAdjust™ Side Wings: The side wings expand as the headrest is raised, providing extra room for your child's neck and shoulders as they grow.
Key features
i-Size safe from birth to booster
Side Impact Protection
One-handed 360 degree rotation
Tri-Protect
Optimal side impact protection
5 recline postions
Adjustable infant insert
Built in ventilation 
Specifications 
Suitability: 
Rearward facing from birth 40cm - 105cm (4 years approx)
Forward facing from 760-105cm (with 5 point harness)
Forward facing 100-150cm (with 3 point seat belt)
360 spinning feature from birth to 105cm.
Safety: 
Meets the i-Size ECE R129/03 standard
Weight: 
14.45 kg
Dimensions:
Forward facing: L 54.5cm | W 52.5cm | H 85 cm
Rear facing: L 69.5cm | W 52.5cm | H 71.5cm

 
Dispatch & Delivery
If you place an order by 12pm between Monday to Friday of an item marked as available for immediate dispatch we will ensure the order is dispatched the same day.  Orders received after that time will be dispatched the following working day.  

DPD PIN Code Deliveries - Customers (recipient) will need to provide their e-mail and mobile number during checkout in order to receive their DPD PIN in order to be able to receive their order.  More information on DPD PIN deliveries can be found here
Availability denotes the length of time the item will take to be available to dispatch. 
Shipping denotes the duration of time that an items takes to reach its destination the either our warehouse or manufacturer's warehouse.  For example an item with "Available in 7-10 working days" and "Standard Delivery" should be expected in 9-12 working days.  Please note working days excludes weekends and bank holidays. 
Our secure website and payment gateways perform a number of security checks against an order.  Any errors on the order could result in delays while we attempt to contact you to clarify any inaccuracies.  At Baby & Co we use a number of carrier services to ensure prompt and speedy delivery, this may include using more than one carrier for an order, however this is rare.
Your order may be dispatched from more than one location including our warehouse or directly from the manufacturer this may result in your order arriving on more than one consignment.  Aside from made to order items and direct delivery we offer the following delivery options. 
With the exception of made to order items and products sent directly by the supplier below you will find our standard delivery terms.  Please note that we only ship within the United Kingdom. 
Please note the following brands only deliver to UK mainland post codes, excluding some Scottish post codes:- Ickle Bubba, Boori, East Coast, Tutti Bambini, Mamas & Papas, Silver Cross Furniture, CuddleCo.
Please note that some nursery furniture deliveries will be to the customer's door, this may exclude internal apartment doors.
Tutti Bambini - If the goods have been sent with the courier, we will now need to charge a 30% handling fee in order to stop them with the carrier and will be refunded less this fee which includes picking, transport and insurance costs.
Silver Cross - Last order date for pre-Christmas furniture delivery is 3rd December 2021 
Standard Delivery

Region

Rate

Delivery Schedule

U.K. mainland
Orders over £49.99 - Free
Orders £34.99 or under - £4.95
2-3 working days
Scottish Highlands
£18 per order
U.K. Islands
& Isle Of Wight
£18 per order
Northern Ireland
£18.00 per order*
Please note - our carriers only work Monday to Fridays (8am - 6pm). We regret our carriers cannot deliver at a specific time. ALL deliveries must be signed for.
Express Delivery

Region

Rate

Delivery Schedule

U.K. mainland
Orders over £49.99 - £7.95
Orders £49.99 or under - £9.99
1-2 working days
Scottish Highlands
£18 per order
U.K. Islands &
Isle Of Wight
£18 per order
Northern Ireland
Not available *
Please note - our carriers only work Monday to Fridays (8am - 6pm). We regret our carriers cannot deliver at a specific time. ALL deliveries must be signed for.
If you are not home and have not responded to the courier's requests for a specific delivery/re-delivery day the courier's terms are that they will leave your order with a neighbour.
*Please note there may be some delays shipping goods to Northern Ireland.
Payment & Security
Your payment information is processed securely. We do not store credit card details nor have access to your credit card information.